Black Friday 2016 Most Wanted Sales
These are the most sought after Black Friday sale items. The list is updated in real time and is created based on the top items added to the "Shopping List" feature.


Sales available now!


Want Free Items?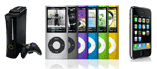 Seen a free iPod, Xbox, or Wii
ad and wondered if they work
and are legitimate? Click here
and we'll tell you!

Black Friday Hot List
For more sought after Black Friday
deals,
click here
.